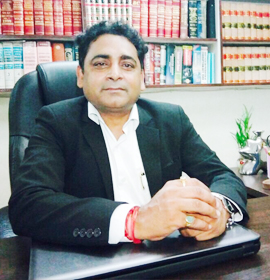 Advocate V.K.Singh
Advocate, Supreme Court of India Year of Professional Experience. More than 15 Years.
Professional Affiliations / Memberships
Member of Bar Council of Delhi, India.
Member of New Delhi Bar Association, New Delhi
Member of Delhi Bar Association ,Tis Hazari,Delhi
Member of Saket Bar Association, Saket, New Delhi.
Member of Delhi High Court Bar Association,[DHCBA], New Delhi

Mr. Singh is the founder member and the Managing partner of the firm, V.K.Singh & Co.. (Law Offices). He has the vide expertise over the matters related to Civil & Commercial Disputes, Family and Matrimonial Disputes, Consumer Disputes and Recovery of Debts for Banking & Financial Institutions and Alternate Dispute Resolution. He is known for his self developed and distinguished negotiation skills, extempore arguments. His experience covers a wide range of litigations, legal consultancy and arbitrations. He possesses superb drafting skill, well acclaimed consummate and effective argumentation skill and unparallel client counseling skill.

Criminal Practice Experience
Mr.Singh has vast knowledge in Criminal Practice and advised, drafted and contested the matters of his respective clients in Bail Matters ,Dowry Cases, Narcotic Drug Cases (NDPS Cases), Criminal Trial, Rape Cases or Sexual Harassment Cases, Fraud Cases, Cheating Cases, EOW Cases, Anti corruption Cases, Criminal Writ Petition, Criminal Revision, Criminal Appeal, Criminal SLP etc. .in Hon'ble Supreme Court of India, High Courts and all District Courts in India.